Comfortable and Top quality corner sofa – GINO (White)
Comfortable and Top quality corner sofa - GINO (White)
Corner Top Sofa/Sofa Bed in Soft Touch Grey Fabric with White Eco Leather detailing.
If you 're on space and want to make the most of your living room…. we have something for you.
Is perfect solutions for small space's and can be easily turned in to a guest bed .
This sofa has beed manufactured using a combination of fabric and faux leather and comes with under – seat storage .
• width: 200 cm,
• depth: 150 cm,
• seat depth: 73 cm,
• seat height: 38 cm,
• sleeping area: 200 x 135 cm,
• Filings: 10 cm high durable foam 25/44 27/44hr,
• Storage,
• 3x big back cushion,
• 2x small cushions on each side,
• The corner is universal – can be : LEFT or RIGHT,
• comes in several parts – easy for fitting, fits everywhere.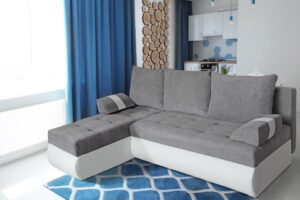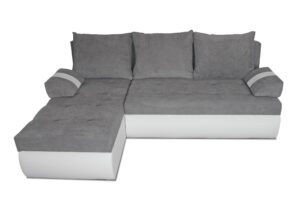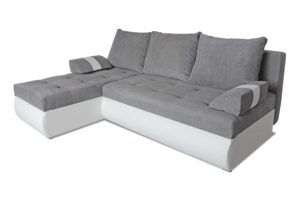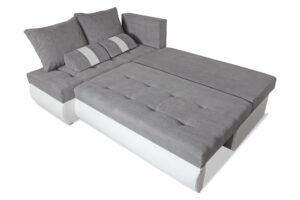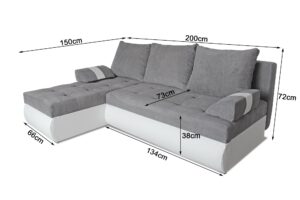 Corner sofas are a great way to make the living room more spacious. They offer a lot of space to relax, and at the same time are smaller than standard sofas. If you'd like to get sofa, that will present elegantly and at the same time won't consume all the space in the room – this is the perfect solution.
Corner sofa for every space
Gino corner sofa bed can be used both as left or right corner solution. Thanks to that, it will fit pretty much every living room. What is more, you don't have to worry, if your space is limited: the sofa comes to you in parts, which means you will be able to transport it through the door and a small staircase or a cramped room.
Universal colors
The Gino corner sofa bed comes in a pretty shade of creamy white and gray. Those two colors will look great in combination with light and dark furniture, as well as with various color variants of wall finishing. The dark seat is easy to keep clean, while the white details make the sofa look bigger and more stylishly.
The sofa is made of a combination of faux leather and fabric, which makes the whole furniture look stylish and at the same time, it's durable.
Elegant and useful
The sofa comes with a handy under-seat storage. You can keep whatever you need there – i.e. basic or spare set of bedding. Thanks to the fact, that the Gino corner sofa bed can be unfolded to form a bed. It means it can be placed in a living room which is also sleeping area for some of the household members or it can be a comfortable spare bed for guests.
Comfortable cushions
The sofa has three big back cushions, which will make you comfortable. The depth and height of the seat are sufficient for optimal support of the back. Even during a long evening on the sofa with a movie or a book, you will stay comfortable and your back will be securely supported.