We are small company who deliver heavy, bulky items in average 1 – 11 deliveries per day. Planning is complicated but we doing our best to deliver your goods as fast as we can. Please note that we are not able to visit every city in the country each day and we may only be in your area once a week or a month.
Please see current map of our delivery zones….. we are realy sorry if we not delivering to your area …. we working hard to change that soon.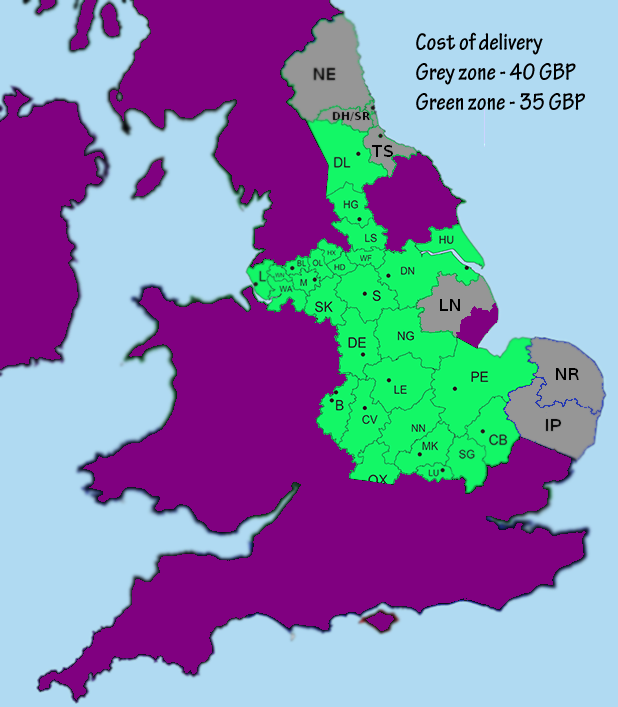 We deliver our furniture Monday to Friday between 12am – 10 pm. Our delivery team will make sure that your order will be deliver safely and on time but please note that unexpected road conditions are likely to cause the delivery delay.
Please note that some items may be delivered slighty sooner or later than the state period in advert ( 1 day – 4 weeks )
Our furniture are deliver to the groud floor only. We don't offer furniture assembly .
We will try our best to meet the delivery date and time agreed , however there may by times where we are unable to do this and your confirmed delivery time will be different. In the event of any unforeseen circumstances like : traffic , road accident , delays , weather delays , car brok down , we will contact you to rearrange alternative delivery time slot or date.  One of our friendly team will inform you about this asap.
On the day of the Delivery…….
Make sure that there is sufficient access and space for driver to deliver your furniture.
Your item will be deliver ONLY TO BUILDINGS DOOR . We are not able to take your order upstairs. Furniture is deliver by one person and help with unloading is necessary.
On delivery, it's your responsibility to examine the product , check the packaging and whether is correct number of items delivered to you. If there are any issues , you shoud record this on the delivery time